About Bluebird Day Vacation Rentals
All Bluebird Day homes are lovingly cared for with the intention of offering you a world class authentic Bend vacation experience. Locally owned and operated, we provide you with a unique opportunity to experience the magic of Bend like a local. We care about our neighborhoods and community, feel passionate about preserving historic homes, and are delighted to offer you a glimpse of our unique and friendly Bend lifestyle. All of our homes are thoroughly cleaned with environmentally friendly cleaning products and proudly feature European style bedding, free high speed wireless internet, games, books, and much more for you to discover!
The Bluebird Day team is here to provide you with a vacation experience that truly immerses you in your destination!
There's no doubt that a good night's sleep makes for a fantastic vacation! But what makes a vacation truly remarkable is when you get experience the authenticity of a place. To feel its "vibe" and know it's people. To live for a weekend, several days, a week or more... as the locals live. To feel truly immersed in your destination.
At Bluebird Day Vacation Rentals, we aspire to let you in on the inside scoop. We are passionate about our community and hope to share the magic of all that Bend has to offer with you!
Here are just a few of the amenities that many of our vacation rental homes offer:
---
Vacation Rental Amenities
Luxury European style bedding

Free high speed wireless internet

Fully equipped, gourmet kitchens

Modern amenities and furnishings

C

heck to see if your rental has a hot tub or

cruiser bikes!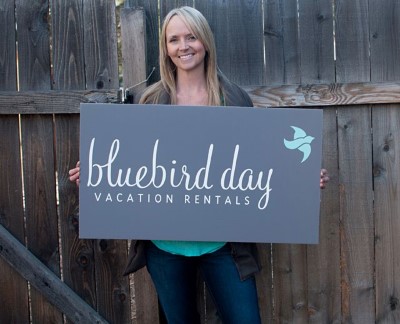 "Paige Robinson is a talented, creative, and highly organized Property Manger. She has been instrumental in helping us get our vacation home completed and ready to rent!"

~ Bluebird Day Home Owners
"We met Paige when we made our first trip up to Bend, as we rented a home she was managing. The experience was so good that when we decided to make a home purchase in Bend, Bluebird Day became the obvious choice to manage our home. Paige even helped us furnish our home, she really has the design knowledge and relationships that allowed us to easily accomplish what is a difficult task, and save some real money in the process! When it comes to their management philosophy, they have a total commitment to quality and consistent execution on behalf of their clients. They really try to match tenants to your property. This was very important to us as we really were not interested in simply putting as many renters in as possible, but rather making sure that our home never looked like so many that show extensive wear and tear. The result is that after the first year of working with Bluebird Day, our home largely looks like it did when we first moved in! The bottom line, great service, a true partnership and a totally hassle free experience."
~ Bluebird Day Home Owners
---
Inspired Property Management
At Bluebird Day Vacation Rentals we are very selective about the homes we choose to manage, believing that personality, character, and location are paramount to the number of homes we represent.
Our portfolio of vacation homes consists of an eclectic array of very special properties all located in Bend's most desirable neighborhoods. Each property portrays specific characteristics of our treasured Bend heritage while sharing consistent amenities such as high thread count linens, European style bedding, and gourmet-equipped kitchens. This approach gives a returning guest a unique selection of experiences to choose from while knowing exactly what to expect in terms of quality and comfort.
We provide our property owners with a strategic plan for achieving the highest possible return on their vacation home investment. Actively engaged in community happenings, we have our "fingers on the pulse" of changing market conditions and trends, both long-term and short-term. We offer the necessary flexibility to adapt not only to long term cycles, but to month to month conditions such as changes in the weather and snow pack levels, as well as festivals and sponsored events.
Creative Interior Design
At Bluebird Day Vacation Rentals we offer turn key vacation home set-up and interior design services. We are continually inspired to appreciate and accentuate the unique character of each property we manage. Nothing thrills us more than to see the hidden potential in a home and to bring it forth for others to experience and enjoy!
Our interior and exterior design services reflect an authentic Bend style of living defined as "natural contemporary" with a Pacific Northwest flair. This style promotes optimum comfort and functionality incorporating natural elements that highlight the beauty of our magnificent surrounding landscape.
Contemporary colors and furniture pieces are blended with period pieces that tell a story of Bend's unique history. All of the design we implement serves as an enhancement of the specific home, its landscape and neighborhood, playing upon key elements of the home's individual story and personality.


Welcome to Bend, Oregon!